For the second time in recent months, we are forced to report on an existential threat to a significant community space posed by real estate development. On October 13 2021, Anarchist Communists Meanjin voiced our solidarity with Kopiplatz, an alternative community in Berlin cleared to make way for yuppy developments. Now the situation is (once again) in our own city.
Turnstyle is a radical hub on Laura Street in Highgate Hill, Meanjin. Beyond being a home for numerous people, Turnstyle hosts meeting spaces, a library, a bicycle workshop and a bakery and kitchen at the disposal of the community as a whole. It is the birthplace of the Laura Street Festival, an annual carnival of music, radical workshops and art that South Brisbane's locals look forward to every year. Turnstyle has been a consistent friend and ally of Meanjin's anarchist movement, having supported groups such as the Brisbane Solidarity Network, Rojava Solidarity Brisbane and the Industrial Workers of the World many times in the past. It hosted a party for Mikhail Bakunin's 200th birthday in 2014 and workshops held by visiting members of the Workers Solidarity Movement in Ireland, for example. It is a firm part of Meanjin's radical and anarchist memory.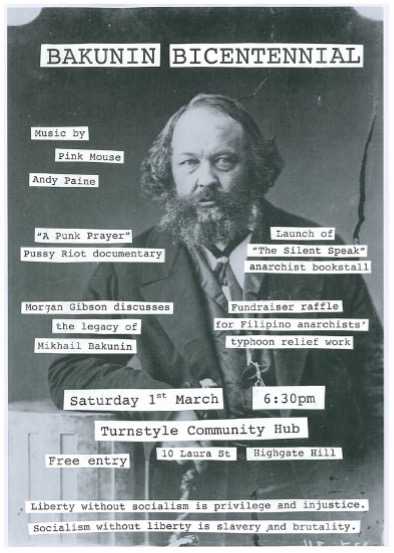 2014 birthday party at Turnstyle for Bakunin.
Almost immediately following last year's Laura Street Festival, Turnstyle announced on November 25 that it had been served an eviction notice. Despite all odds, the space was able to secure the funds to buy the property itself, only to be informed in early January that they had been outbid, with "a deal behind our backs to buy our home from under us. We were not even given the opportunity to match their higher offer."1 This mirrors the overall drive towards gentrification in South Brisbane, the aim of which seems to be to price out what remains of its radical community. ACM has noted this previously, arguing that Meanjin's communities must intensify their campaign of resistance to the housing crisis. Tenant's unions, for example, "will only become more important over the coming years, as the recently announced Brisbane 2032 Olympics come closer, and low-income tenants begin to be attacked and removed in order to facilitate the image of Meanjin/Brisbane that whatever state government in power will want to convey."2
Alongside Turnstyle's neighbours, who have draped Laura Street with solidarity banners, it is our sincere hope that Turnstyle will endure well into the future. Connected as we are to our own radical space, Common House, we understand absolutely the trials and tribulations that zones of countercultural resistance face. While the logic of capitalist development endures, communities will   continue to be steamrolled. Only once we begin to realise our collective power will this trend be put to an end.