May has seen an uptick in working class solidarity with many high profile strikes, particularly down in NSW. This type of solidarity is sorely needed in a period of low wages and rising living costs. All predictions point to these costs continuing to increase - meaning the capitalists will attempt to squeeze us working class people even tighter to extract their profits. We know the newly elected ALP government is at the whims of big business, they even said so in their election material. Our only hope is in the type of action detailed below.
NSW Teachers Strike for the Second Time this Year
One in eight teachers leave the profession every six years, with those that do stay facing 55 hour work weeks, sub par wages and out of control workloads. They've struggled to keep up with our children's needs over COVID.
They desperately need a raise. We need to retain our current teachers and attract more people to the profession (NSW currently has 2000 permanent vacancies).
Yet the NSW LNP government has ignored all this, offering teachers a 2.04% pay rise in an attempt to stop industrial action, despite inflation now being at 5.1% and a cost of living crisis.
It should come as no surprise then that thousands of teachers across NSW defied the state premier by stopping work for the second time in six months on the 4th of May. The teachers demanded a pay rise of between 5 and 7.5 per cent as well as extra planning time for lessons.
Many teachers spoke of a crisis in the education system - one sentiment heard over and over again from senior teachers was that the last five years have been the worst they've ever seen. Teachers told stories of periods with only two teachers supervising 300 students, hundreds of canceled classes, and of many breaking down under the strain.
Teachers can't pay their bills with thanks, talk of what selfless heroes they are is worthless and is a factor in their low pay. Looking at pictures of the strike from around the state one quickly notices that the majority of people in the photos are women - people who are socialised and expected to take on care work for free because it is apparently an intrinsic part of their nature. Teaching, being a care industry, is considered a feminised occupation so these sexist assumptions hurt everyone in the profession.
Teachers should not be emotionally blackmailed into working for such low pay. At an absolute minimum the demands of this strike need to be met in order to avoid a disaster within the profession.
Aged Care Workers Strike After 1500 COVID Deaths in Care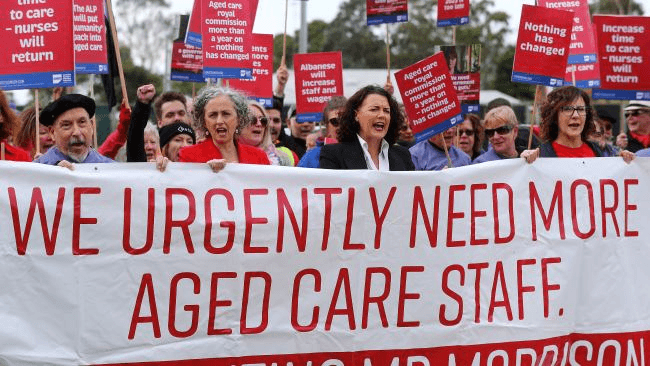 May the 10th saw around 300 aged care workers walk off the job to gather in Queens Park, protesting for a 25 per cent pay increase and better conditions.
They were joined by a similar number of colleagues in Perth, while workers in South Australia were blocked from taking action by the Fair Work Commission on the grounds that the strike would cause significant staff shortages that would threaten the safety of aged care residents.
Many noted the irony of this reasoning, given staff shortages were precisely the issue they planned to strike over.
Aged care worker Glenda spoke of worsening conditions for both workers and residents, exasperated by the pandemic.
"The last couple of years with the pandemic has brought out the worst again, unfortunately," she said.
"It's mentally draining. The residents still expect the same level of care if there's six of you on, but sometimes there's only three of you.
"They still need their showers, they still need to be fed, they still need to be toileted, so most of us stay behind to do that extra because we don't want to see them suffer."
Retail and Fast Food Workers Union Goes from Strength to Strength
After the landmark victory won by Better Read than Dead workers, RAFFWU are continuing to organise workers at another bookstore, Reading Books. They are demanding permanent positions, penalty rates, and to be paid for all the work they do, including writing book reviews.
RAFFWU has stated that Readings Books "has refused to agree to RAFFWU's claim for written book reviews to be paid as work, instead sticking to their current process of paying staff with store vouchers. Readings draws on the expertise of their skilled booksellers to generate book reviews to fill their newsletter, publish on their website and use as social media content across a host of different platforms, and the reviews are read widely across the literary community. Paying for time worked is the most simple of claims - and the law."
"Over the coming weeks Readings needs to make a choice as to whether it is a progressive employer or not. After 6 weeks of meetings, Readings is on notice of what workers need."
Historic Vote to Strike Goes Ahead in the UK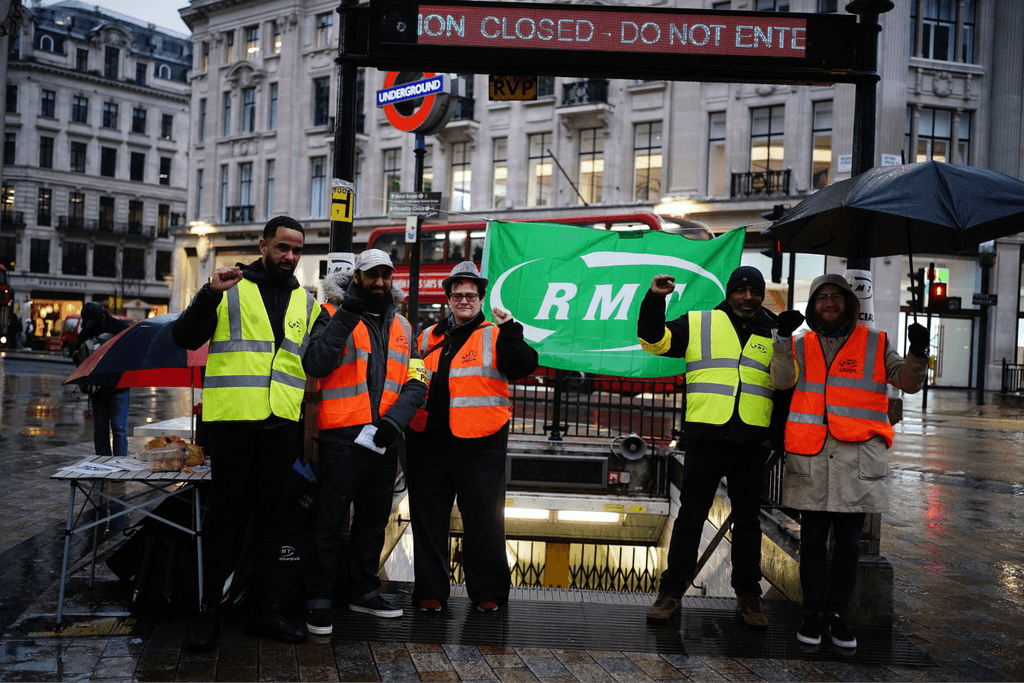 Over in the UK, The National Union of Rail, Maritime and Transport Workers have voted to strike.
The motion to strike was passed with an overwhelming majority 89% of votes being in favour of strike action and only 11% against. This demonstrates a real urge for significant action amongst workers.
This strike is hugely significant - some are describing it as the biggest walk out since the 1926 general strike - not just because of the 40,0000 strong workers who will go out, but the sheer coverage of the strike.
This vote covers 13 separate rail companies, overcoming a fragmentation that has made industrial action of this scale previously impossible.
Unlike previous strikes where just the guards and drivers have walked out, this strike will include the rail network workers meaning that signaling, track engineering, emergency maintenance and network coordination will also go down.
This means that not only will passenger services be impacted but freight as well. Amid a cost of living crisis and ongoing supply chain issues this could very well mean goods transport to Britain's large supermarket chains will stop.
The capitalist class with their politicians and media lackeys are already attacking the strikers with propaganda that could have come from that against the famous miners strike in the 80's. One key difference here is capital cannot simply shut down the whole sector like they did the mines - society simply cannot run without freight services.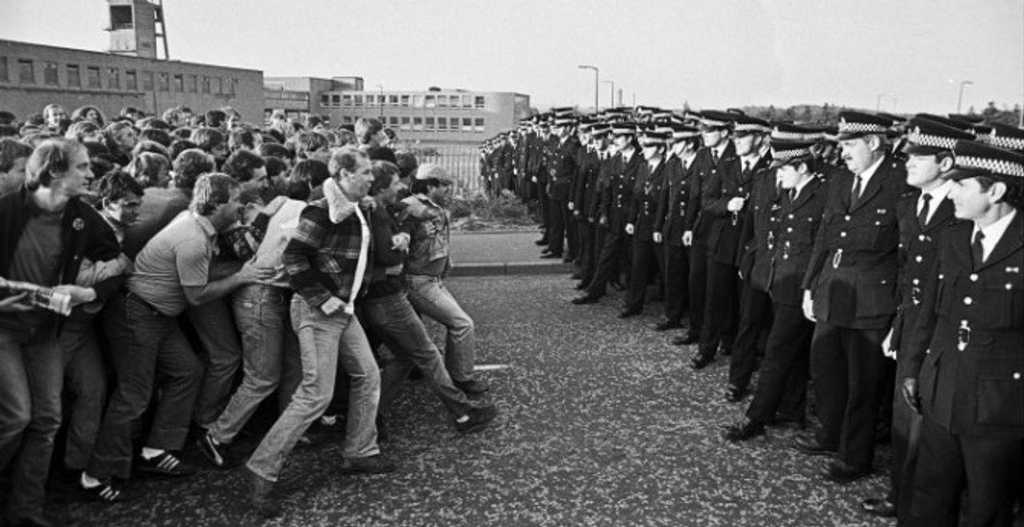 In the face of these attacks there is another positive - should the train workers be suppressed other unions are threatening solidarity strikes, and are indicating a strong willingness to go outside the law if necessary.
To call this vote significant is a huge understatement. Let's hope it is a sign of more things to come.
Industrial Action at the University of Sydney Heats Up
NTEU members at Sydney University have gone on strike for secure work, better conditions, enforceable targets for Aboriginal and Torres Strait Islander employment, paid gender transition leave and a fair pay rise.
Despite some violence on the picket lines from scabs, the unionists are holding firm, with a high level of support from their students and the wider community. For further information about the strike we recommend this article from our comrades at Black Flag Sydney who have had boots on the ground throughout the strike actions.
Wrap Up
This has been just a shortlist of industrial action undertaken in the past month. If you are not unionised, get in contact with your sector's union and join the fight. If you are unionised, get involved and make some labour news of your own!