Win for electrical workers at the University of Queensland
Electrical workers at the University of Queensland were forced to take strike action earier in the month when their employer UGL locked them out for taking protected industrial action.
The workers, members of the Electrical Trades Union, spent 1.5 weeks on the grass of the sandstone university fighting for improved wages, stagnant for 3 years, and conditions - something well deserved when one looks at the soaring profits of UGL and the University of Queensland.
The sparkies returned to work on June 9 having won a 5.5% pay rise, further pay rises equivalent to 3% or CPI each year, plus a 36 hour work week, or two RDO's a month.
Many joined the electrical workers on their picket, including UQ students and members of the South East QLD Union of Renters (SEQUR), with one ETU member telling UQ student union councilor Sam "UGL agreed to our demands, we now have a principal agreement and we'll be going back to work tomorrow morning. It just goes to show that if we stand together, fight together, we win together."
These were not hollow words. Just weeks later ETU members joined SEQUR in an eviction defense in Taringa - big wins for collective action all around Brisbane's western suburbs.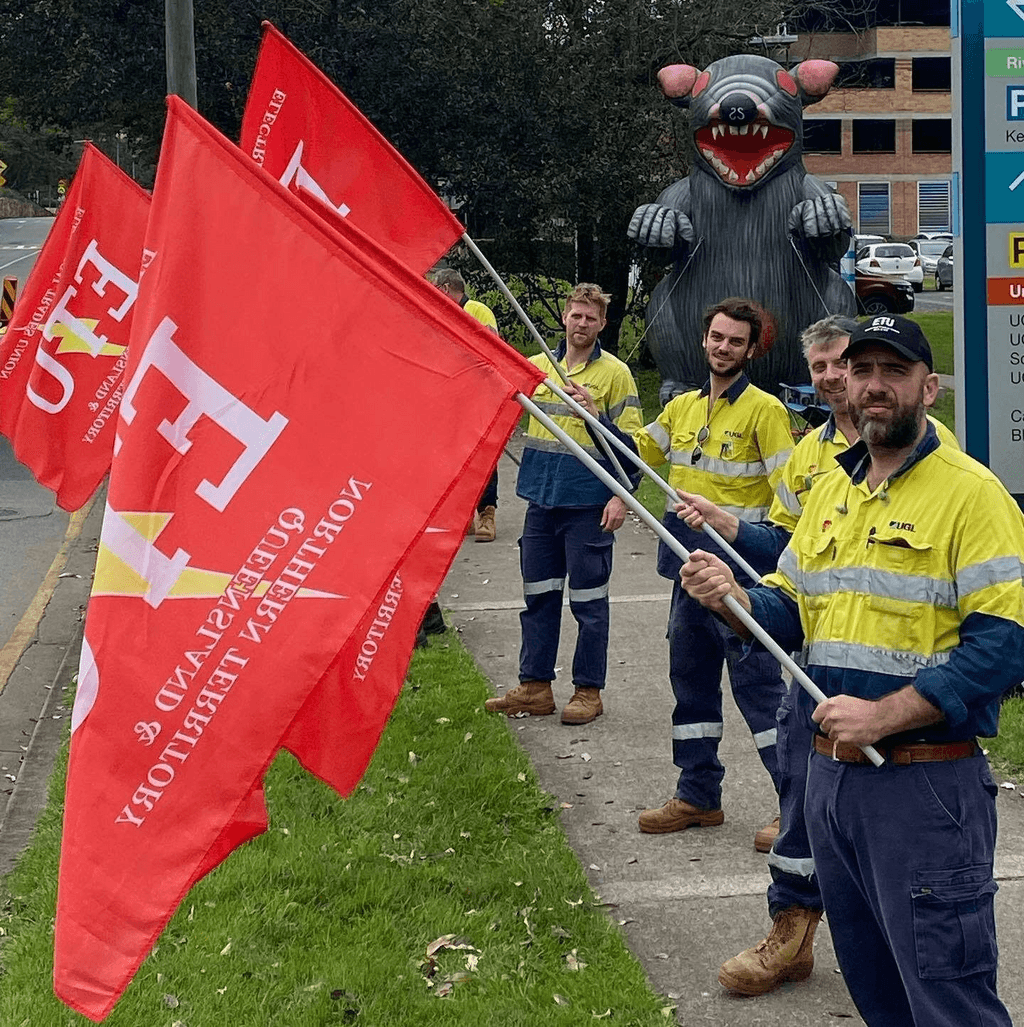 Public sector union officials have canceled protests that were set to occur on the 21st of June, angering some members.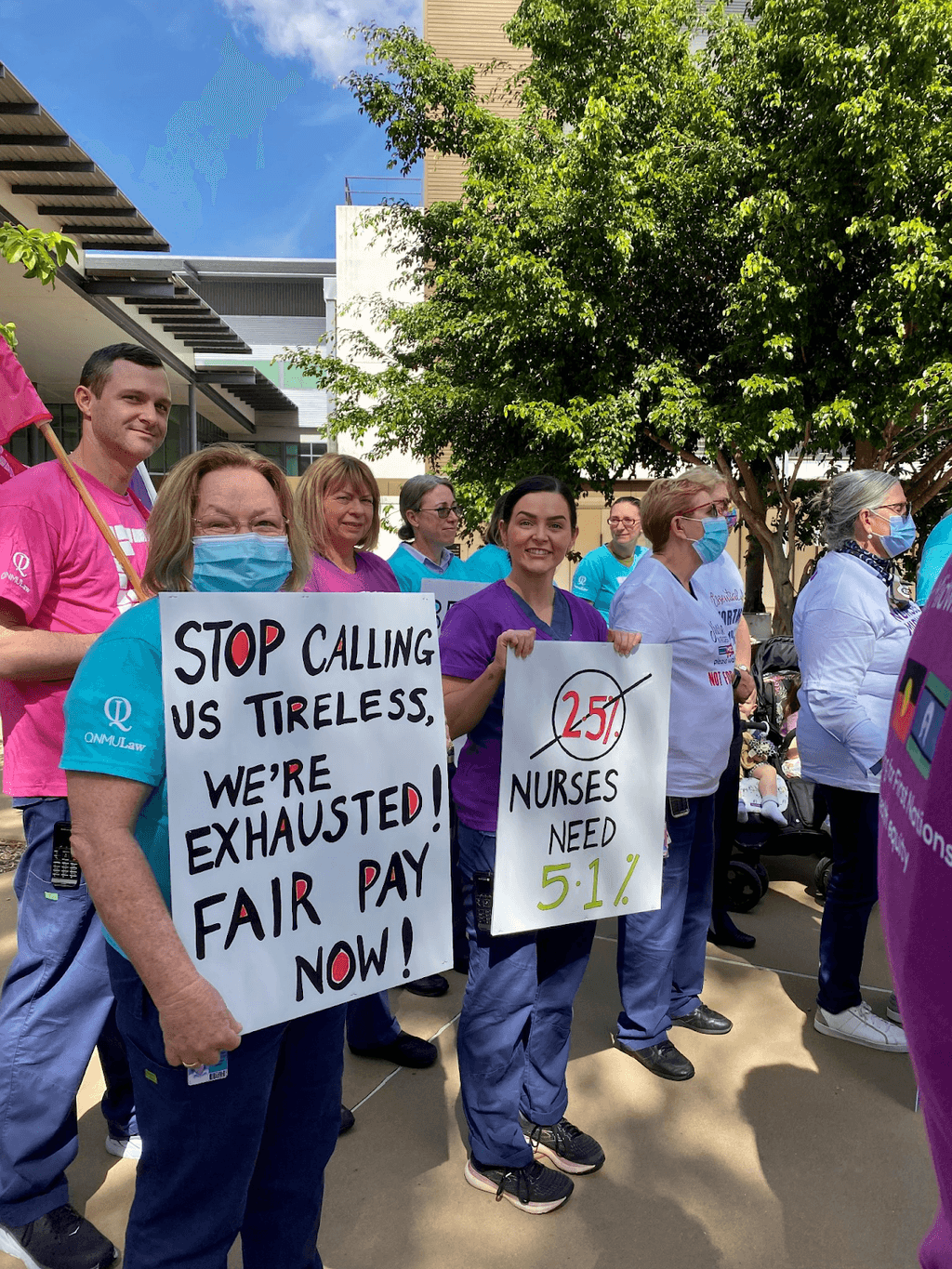 Rank and file members of the public sector unions have been angered by the cancellation by union officials of protests demanding wage increases. These protests, set for June 21, were intended to call for a 5.1% annual wage increase over the 2.5% rate offered by the state government. While the QLD government has pledged record funding for services, workers say what is needed most is a wage that keeps up with the cost of living to attract and retain talented, committed workers.
Despite this dire need to retain staff, union officials decided to cancel the planned protests last minute, with the Nurses and Midwives Union stating, "Good news - we believe we have shifted the state government on their wages policy, which is a direct result of our EB11 campaign and member meetings that have occurred across the state....At the moment, the Government's offer has not yet been formalised. However, QNMU Council, made up of your elected member representatives from across the state, will meet this Friday to talk through the government's response in more detail and to determine the important next steps in our campaign, including seeking your feedback."
Feedback around this decision wasn't too appreciated though. When some nurses voiced their disagreement with the protest cancellation, the union decided to limit comments on their social media.
From limiting comments to canceling protests on the 'belief' the government will make a decent offer, officials have shown a real lack of faith in their members.
Backing down with no guarantee of any wage rise from the government is not some 4D chess move - it's political naivety at best and a betrayal of members and workers power at worst.
Many areas of the public sector have been in crisis for years. We're entering an era of real hardship with inflation at 5.1% that is only expected to rise further, making the government's offer of 2.5% a pay cut in reality. Now is the time for fighting, democratic unions - not behind the scenes maneuvering from bureaucrats.
Teachers come together for unprecedented strike
NSW public and Catholic school teachers will strike together for the first time on June 30th.
Like their Queensland public sector counterparts, the workers are fighting for a wage rise in line with the cost of living and for policies to end chronic staff shortages and overwork.
No matter what state they're in, the state governments continue to show utter disrespect for the people they depend on, whether they be teachers, nurses or paramedics.
This latest strike is only one in a long line of public sector strikes across NSW in the past 12 months, and we hope to see our struggles in Queensland soon match what is occurring down south, whether the state government be Labor or Liberal.
UK grinds to a halt as rail workers lead the way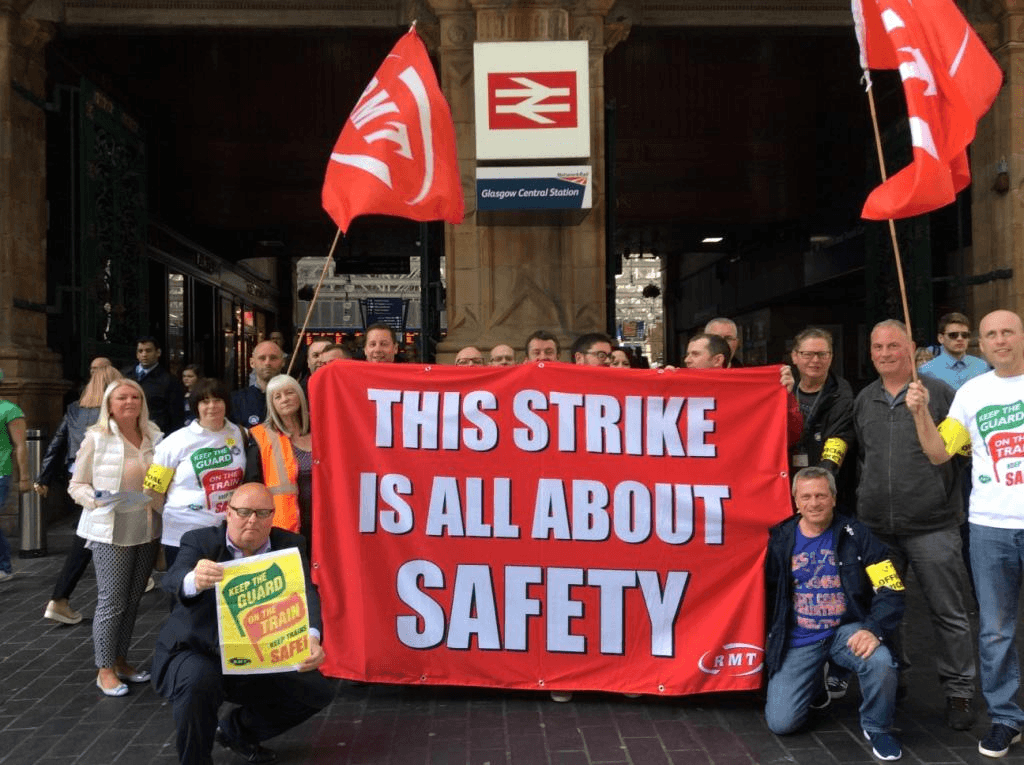 The most significant rail strike in three decades has kicked off in the UK. Members of the National Union of Rail, Maritime and Transport Workers (RMT), and the Associated Society of Locomotive Engineers and Firemen (Aslef) went on strike for three days, reducing services by around 80%, after negotiations with rail bosses failed.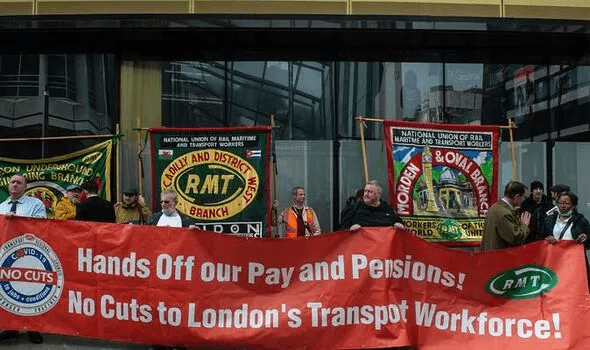 Union members voted overwhelmingly for the strike last month over disputes over pay and job cuts.
The unionists have faced slander from all sections of the ruling class - from the Murdoch media to the British Labour party. While we expect lies from right wing shitrags like The Sun, some have expressed surprise that Labour, the supposed party of the unions, have not only been unsupportive of the strike but have pledged to punish any representative who supports it.
At the time of writing, at least three Labour frontbenchers, including whip Navendu Mishra, have found the spine to break ranks and join the picket line. As we enter a recession under a Labor government here in Australia, we should keep the actions of their UK counterparts in our minds and remember that we cannot rest on our haunches now the election is over. It's vital we remember that the ALP is no friend to the working class and anything we win we will have to win for ourselves.