Summer of discontent rocks the UK
In the freezing winter of 1978-79, strikes erupted across the UK against the Labour government's attempt to enforce limits on pay rises to curb inflation. It was the largest labour stoppage since the 1926 General Strike. Now in the summer of 2022 the UK is set for a level of industrial action unseen since that winter of discontent in 1978.
Workers across multiple sectors have been voting for industrial action over below-inflation pay offers - including transport workers, firefighters, doctors, nurses, teachers, postal workers, civil servants, lawyers, engineers and baristas.
Just one example are the more than 115,000 Royal Mail workers, members of the Communication Workers Union, overwhelmingly voting to go on strike in a dispute over pay, with 97.6% of members from a 77% voter turnout backing industrial action.
Railway workers have pledged more strikes to secure better pay and conditions. This follows the largest strike of a generation last month which saw 70% of rail services shut down.
Following the announcement of further strikes, RMT General Secretary Mick Lynch said: "The rail industry and the Government need to understand that this dispute will not simply vanish. They need to get serious about providing an offer on pay which helps deal with the cost-of-living crisis, job security for our members and provides good conditions at work."
There is one word present in every press release promising industrial action - inflation. UK inflation currently sits at 9.4% and is predicted to hit 11% by the end of the year, making offers of anything less a pay cut in reality. With more and more households suffering under the higher costs of living the usual tactic of the ruling class: characterising unionists as greedy, selfish and pig-headed is failing to find traction with the strikes being met with wider public sympathy.
The UK is currently seeing a crunch in the labour market. Vacant jobs outnumber unemployed workers. This is a situation which will greatly displease the British ruling class for two reasons. Firstly, such a situation puts their profits at risk, as profits at the end of the day are nothing more than the stolen wages of workers. Secondly, such a situation greatly increases the strength of organised labour in its struggle against the bosses. As a result of this the ruling class has utilised another weapon in its arsenal - the legal system.
Last week, outgoing Prime Minister Boris Johnson's Conservative government passed a law permitting companies to replace striking workers with agency staff in a bid to undermine the increasingly active unions. In other words - they legalised scabs.
Given the large amount of currently vacant jobs, alongside the fact that many of the striking industries require high levels of training, chances are this won't be the salve the government hopes and will probably only produce more workplace accidents.
The bosses and government may also be forced to remember why they implemented strike protections in the first place. It certainly wasn't from the kindness of their hearts. Nobody wants to go on strike, nobody wants to spend weeks exposed to the weather on a picket line without pay, nobody wants to fight scabs. But if workers are left with no options in the face of worsening conditions, and if the government is set on taking away any "gentler" options, they will have to fight. The common sentiment on the picket line from workers in the UK is that they are ready to fight, and they are looking to win.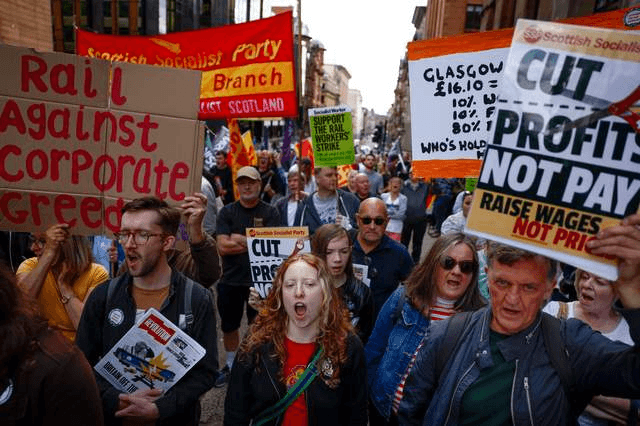 Landmark win for retail workers
After an unprecedented struggle, workers at Sydney's Better Read than Dead bookstore have won what their union, the Retail and Fast Food Workers Union, is calling "the best enterprise agreement in retail and fast food."
The workers have been fighting management since 2020 over pay and conditions, and have undertaken a level of industrial action not seen in the Australian retail sector in years.
As a result they have now secured an agreement that the lowest pay offered to adults on a non-casual basis is $22.38, one dollar over the national minimum wage, rising to $24.22 after 12 months' service. Adult casuals can expect no less than $27.96 an hour. Sunday penalty rates will be paid at 200% of full and part-time wages, and 225% of casual wages. The agreement also includes a pathway for casuals to convert to full and part-time work, and 26 weeks of paid parental leave, and up to 20 days of paid leave for those experiencing family or domestic violence.
Stella, a RAFFWU delegate at Better Read Than Dead, summed it up best: "It is a win for young, casual workers in precarious employment. It shows that collectively we can fight for better working conditions and win. It shows the importance of having a fighting union focussed on grassroots organising."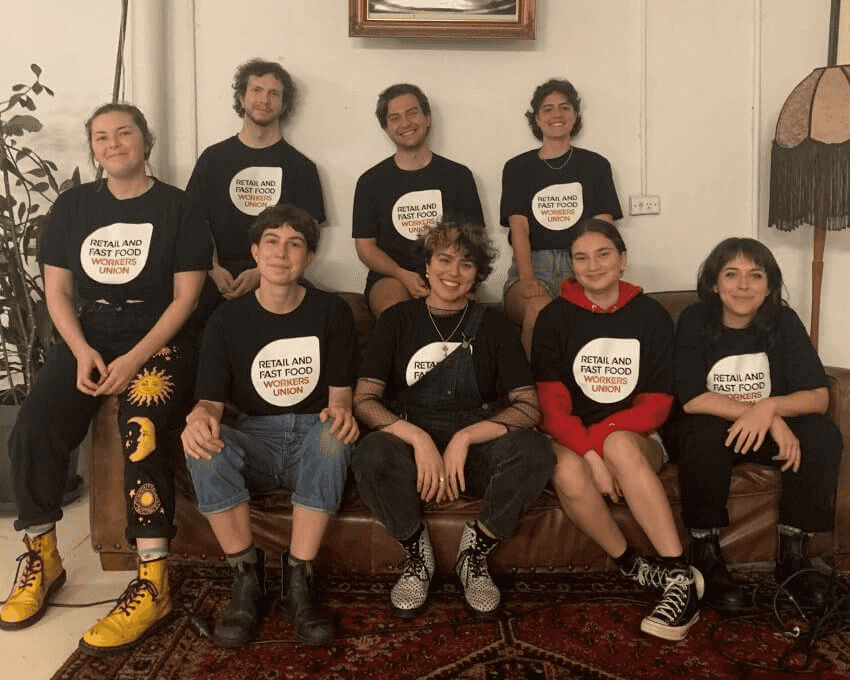 Healthcare workers exhausted and underpaid
Long suffering healthcare workers around Australia and overseas have undertaken a flurry of industrial activity this month.
It goes without saying that the last few years have been extremely tough on those in the industry, particularly nurses. But we of course live under a system where the labour of caring is severely devalued, so despite the risks they've taken, on top of severe overwork, trauma and burnout, these workers are still not fairly compensated or treated.
In NSW the Nurses and Midwives Union recently voted to reject the state government's tiny 2.53% pay rise offer, saying they will not depend on the Industrial Relations Commission and have instead voted to take action for a 7% increase. NSW nurses and midwives have already gone on strike 3 times this year and it's heartening to see them overwhelmingly pledging to fight for what is fair.
Thousands of members from both the United Workers Union and the Health Services Union, which together represent many of the non-clinical staff who keep hospitals running, have rallied in Western Australia at a stop work meeting.
The workers rallied against the current wage rise caps, which sit at either 2.75 per cent a year, or 2.5 per cent plus a $1,000 sign on bonus. Meanwhile WA inflation sits at 7.6%
Carolyn Smith, WA State Secretary of the United Workers Union said, "More than 90 per cent of United Workers Union health workers rejected the current pay offer because it simply does not give people what they need to live. Without a fair pay increase, health workers are working two jobs, unable to pay for school uniforms and unable to pay for petrol to get to work."
Transport issues are also being fought against in South Australia, where health workers conducted a one hour stop work meeting to preserve free parking and public transport for staff.
Parking and transport were made free in April 2020 in recognition of the burdens the staff faced in the beginning of the pandemic. Despite case numbers now actually being higher, the government is attempting to take this away. This would be a significant blow for the already underpaid staff - $1200 per year for parking is a ridiculous amount for a cleaner earning $27 per hour to pay.
Freshfood Management workers locked out
Workers at Freshfood Management Services, which provides coffee for both Bushells and The House of Robert Timms, have been locked out twice for multiple days without pay over the past month.
The lockouts came during an EBA dispute after workers rightfully exercised overtime bans to win a fair deal. Members of the three unions on site, the United Workers Union, Electrical Trades Union and Australian Manufacturing Workers' Union, responded to the lockouts with a snap 24 hour strike.
The workers are fighting for a fair wage increase and for respect from the bosses. They are calling on the company to end the lockouts and come to the negotiating table
Textile workers strike back in Myanmar
In the first major strike since last year's coup, around 2000 workers from a Yangon textile factory have gone on strike over exploitative pay and conditions.
The Canadian-managed factories in Zaykabar Industrial Park manufacture clothing for many international brands where staff work 12 hour shifts 6 days a week.
One factory worker said "We can barely make 45 pieces an hour but now they're asking us to finish 62 pieces an hour. Injustice is widespread here. The workers are not able to practise any of the rights we are entitled to."
She added that it had become difficult to take a 30-minute break to eat lunch or to use the toilet during their shifts.
Many workers and union officials have commented that labour rights and conditions have deteriorated since the coup, with the junta siding with employers,while labour organisations are being outlawed and unionists charged with incitement.