The Haymarket Martyrs
This May Day finds the world in a particularly grim situation. Wracked by war, pandemics, ecological crises and politicians and bosses bent on exacerbating things still further, our planet is in a precarious position. It is at times hard to see the light at the end of the tunnel. But while the struggle for justice and freedom may have its ebbs and flows, in the spirit of the Haymarket Martyrs it inevitably continues its advance.
May Day has its origins in the 1887 state murder of several Chicago anarchists on trumped up charges in the aftermath of the Haymarket Affair, a crime that the working class internationally has never forgiven. As August Spies, one of the defendants who would later be executed stated in court, "if you think that by hanging us, you can stamp out the labour movement - the movement from which the downtrodden millions, the millions who toil and live in want and misery -- the wage slaves -- expect salvation -- if this is your opinion, then hang us! Here you will tread upon a spark, but there, and there, and behind you and in front of you, and everywhere, flames will blaze up. It is a subterranean fire. You cannot put it out. The ground upon which you stand is on fire."
His words would prove prophetic: the prosecution of the death sentences of these anarchists opened a Pandora's box that the ruling class has attempted to slam shut ever since and without success. As campaigners for the eight-hour day, their fate would forever be tied to May Day, the first of which took place internationally in the months preceding the execution and remains a tradition that has continued over the 135 years since. During the first few months of this year we have witnessed several important struggles both at home and abroad.
RTBU + TWU workers strike for fair pay and conditions!
In the aftermath of the privatisation of public transport assets, bus drivers have been forced to strike for the enforcement of a maximum 12 hour working day, 10 hours between shifts, equal pay between workers carrying out the same job and for rostered toilet breaks - in 2022!
With wage trailing behind increases to costs of living, workers must act against the government's effort to further privatise public assets. This strike followed in the wake of the NSW Teachers Federation strike in December last year against staff shortages, unbearable workloads and a 2.5% wage cap. Without significant wage increases and preparation times, the Teachers Federation warns that NSW will run out of teachers in roughly five years time. ACM strongly supports NSW teachers and transport workers in their demands for improved conditions and wages.
Election Season Looms Large
While Scott Morrison has repeatedly demonstrated his callousness and mismanagement, Australian workers should not view Anthony Albanese and the ALP as any real alternative. Though it would be a joy to see Morrison and his Liberal colleagues kicked to the curb, Albanese only offers more of the same naked neoliberalism cloaked in some sort of social-conservatism, whatever that means.
To take a more recent example, Albanese was swift to guarantee a continuity of the LNP's aggressive military posture against China and to side with Morrison and the Christian fundamentalist lobby against Australia's LGBTQ+ community in supporting the Religious Descrimination Bill. As we noted on March 7, the ALP "has inexplicably been all too eager to align themselves with the Prime Minister's own party ... Labor cites their inexplicable support of the Liberals' religious bill as a tactical maneuver designed not to let a divisive 'wedge issue' rile up ScoMo's reactionary base".
While Morrison has described Albanese as "the most left-wing Labor leader since Whitlam", even the briefest overview of his political career dismisses any possibility of considering him left-wing at all. He has consistently supported fracking, offshore refugee detention centres, subsidies for coal mining, university fee hikes and opposed increasing JobSeeker above poverty rates, to name some of his more criminal policies.
History has shown time and again that real change comes from the direct action from the workers with elections serving as nothing more than a distraction from this task. As anarchists we call on the workers of Australia to discard any faith in the electoral system and instead look to bolster their own strength.
Putin's Ongoing War In Ukraine
We say Putin's war because we do not see it as a war of the Russian people, many of whom have courageously challenged the government on the streets and have faced widespread oppression for their stand.
Over 15,000 Russian anti-war protesters have now been arrested and bloodied by Putin's security forces, including many anarchists. This stands in stark contrast to the Communist Party of the Russian Federation, which has once again demonstrated its national-bolshevik credentials in voicing support for its masters in the Kremlin. As we stated on March 28, "Our solidarity is with the Ukrainian and Russian workers being sent to the slaughter, not the states that facilitate that very slaughter."
This is a line shared by Ukrainian anarchists actively combating the invasion. On March 19, Resistance Committee stated, "Now the whole people of Russia is taken hostage by its government: growing poverty, threat of repressions, border closing or even nuclear war ... So in fact Putin wages war not only against the people of Ukraine but also against Russians and Belarusians ... We greet the anti-war actions in Russia, starting from street demos and up to sabotage against conscription centers, blocking the railroad movement of military trains and other forms of direct action. From anonymous leaflets and up to takeover of the television streams. The defeat of Putin is in the common interest of Ukrainians, Belarusians and Russians."
It is the solidarity of workers around the world which will defeat imperialism, not campism or appeals to NATO intervention. This May Day, we must remind ourselves that the working class has no nation -- workers of all countries, unite!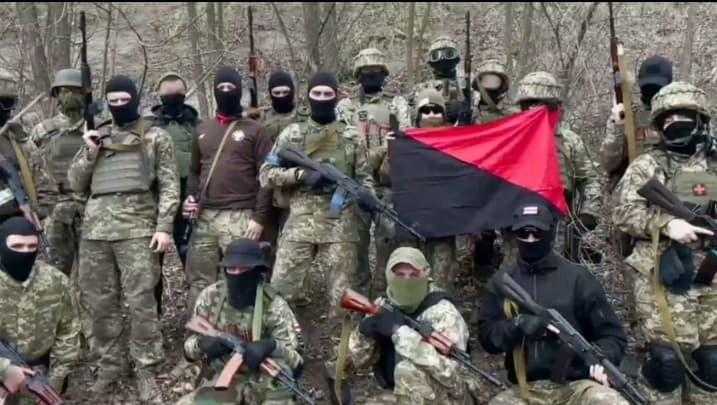 Millions of Workers Strike in India
In India, tens of millions of workers went on strike on March 28-29 against PM Narendra Modi and the far-right Bharatiya Janata Party (BJP). While this strike was not as large as the November 2020 strike, the largest in human history with an unfathomable 250 million workers walking off the job, the presence of 50 million militant strikers should remind Modi and the ruling class of the potential consequences of their class war. Striking against proposed union-busting legislation and privatisation and in favour of higher wages and welfare guarantees, among other things, the March strike affected the entirety of India across all industries.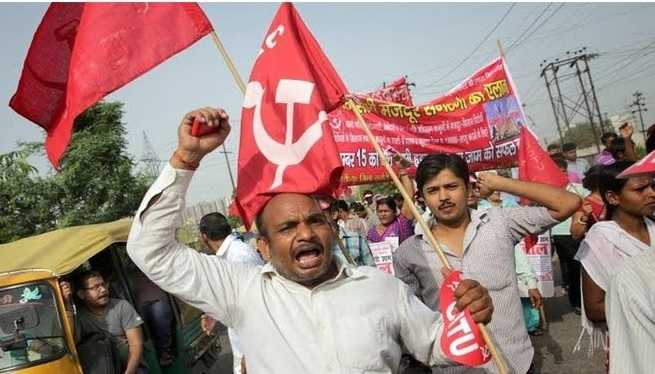 Just as workers must avoid supporting the ALP in Australia, however, Indian workers must not place their faith in political parties that claim to represent their interests and instead turn their energy towards self-organisation. In the left-wing stronghold state of Kerala, for example, the strike was largely undermined by its Stalinist leadership in the Communist Party of India (Marxist) and the Left Democratic Front government, which ordered state employees back to work under threat of sanctions and dismissals.
The alignment of the unions with pro-capitalist parties such as the CPI(M), Congress, the Communist Party of India and the Dravidian Progressive Federation, all of which have carried out pro-investor programs including privatisation, guarantees that even with such enormous numbers, workers will be unable to attain the goals that they fight for.
The essential task for the Indian working class is therefore to overcome these unions and parties and construct their own organs of working class power. In this fashion, it will increase its chances of overcoming the BJP and the Indian ruling class. ACM sends its greetings on May Day to the militant workers of India and calls for global working class solidarity with their cause.
Amazon and Starbucks Workers Unionise in the USA!
Workers in the US have also made important gains. We have followed with some excitement the success of Amazon and Starbucks employees in establishing unions in their workplaces against all odds. The Amazon Labor Union at Staten Island warehouse JFK8 in New York City has successfully unionised the site two years after organisers were fired for raising safety concerns in the initial stages of the Covid pandemic.
This is a historic victory against Amazon, the second-largest employer in the US, which is well-known for its barbaric working conditions and zero-tolerance policy against labour organising. Asked how the ALU achieved its victory in late March, organiser Justine Medina advised, "Do not be afraid to fight, to get as dirty as the bosses will, to match or beat the energy they're bringing. Do not be afraid to agitate and to antagonize the bosses, as a union should." ACM wishes the Staten Island workers every success and is confident that their example will encourage other warehouses to unionise across the United States.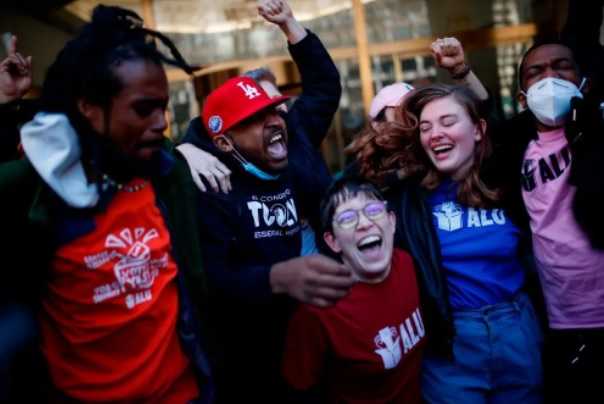 Meanwhile, baristas have been successful in having over 140 franchises in 26 states petition to unionise with Starbucks Workers United. Demonstrating the lengths bosses will go to attempt to prevent workers from achieving decent conditions at work, Starbucks has carried out a campaign of retaliation against organisers, firing at least sixteen in recent months.
On March 26, one organiser in Raleigh, North Carolina was fired after a metal sink collapsed on her under the absurd pretense that she had apparently wrenched it off the wall on purpose. This of course took place only days before her store's unionisation vote. This wave of unionisation is not to be halted however and appears to be continuing to gather momentum.
These wins are significant for casualised workers everywhere, showing that even under the neoliberal model of low-wage work that has intensified in the US since Reagan, unionisation is not only possible but highly effective. We encourage workers in similar positions here in Australia to get involved with the Retail and Fast Food Workers Union and send our May Day greetings to retail and hospitality workers everywhere. Don't let the bastards grind you down!
While this is only a fraction of the struggles going on around in Australia and around the world currently, we can take inspiration and learn from their examples.
Most of all this May Day we look to the workers, the toilers whose efforts made this world. Our efforts are currently stolen, exploited and abused by the capitalist class, but through our efforts we can remake the world. May Day serves as a monument to the achievements of the working class and the revolutionary potential that it holds in its hands. Today we remember our victories, we commemorate our fallen and we look to the struggles ahead, with an eye to a revolutionary future on the horizon.